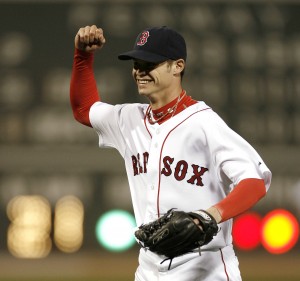 If the Red Sox lose a game, but nobody stays awake to see it happen, does it count in the standings? I'm as faithful and passionate as the next guy, but I couldn't make it until the bitter end last night. Maybe it was knowing I had to get up and pretend to be particpating in an 8:00AM meeting, or maybe it was being drained from another emotional Celtics win. Or maybe it was seeing Anderson's curveball and knowing that one run might be enough for the A's to win.
The Red Sox hitters had no answer for Anderson. They'll need the bats today against Gio Gonzalez and his sub-one ERA. On the positive side, Lackey pitched well. It was Okajima, perhaps in his swan song as a viable option in the bullpen, who put this one out of reach. He, and the aforementioned bats that didn't make the trip to Oakland in time for last night's game.
The line-up du jour:
J.D. Drew, RF
Dustin Pedroia, 2B
Adrian Gonzalez, 1B
Kevin Youkilis, DH
Jed Lowrie, 3B
Marco Scutaro, SS
Carl Crawford, LF
Jason Varitek, C
Jacoby Ellsbury, CF
The first road win of the season today?