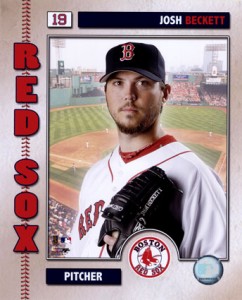 I'm sure Tito had more than a few games like yesterday's in mind when dreaming about this season, all snug in his Red Sox footie pajamas and a belly full of warm Bigelow Tea. Seven strong from the starter, Bard in the eighth, Papelbon closing it out. The only run Beckett gave up was an RBI single to Snider because he was too worried about Hill dancing around on second to focus on the batter. Just three hits and a coupla walks with nine K's for the Commander. Just another day at the office throwing heat and spitting F-bombs.
As giddy as I am about the win, there a few disturbing plays in this game. Jason Varitek, just turned 39 and having played 56 seasons in the bigs, still can't lay off the high fastball. With bases loaded in the first, Tek chased the high heat on a 2-1 count. Molina took a few steps toward the mound and told Reyes to throw that again and like an obedient dog, Tek chased again. And do we even want to talk about the throw to center field he made on a stolen base? I didn't think so.
Meanwhile, Carl Crawford sat his buck-thirty-seven-hitting ass on the bench for this one. Jed Lowrie re-stated his case for being the everyday shortstop going 3-for-5 with a homer and two RBI. Youk made an error at third and Ells swiped a base. The end result was win number three and hopefully something to build on.
Today, Jonny K. Lester attempts to extend the winning streak to two games. Won't you join us?