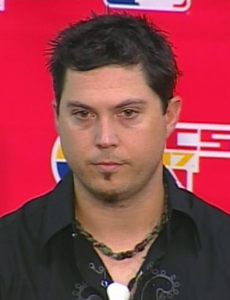 The Red Sox finally found the elusive road win, shedding another monkey off their back. It turns out that the last turn through the Red Sox rotation wasn't only encouraging, it was historic:
After Clay Buchholz allowed a run in 5 1/3 innings of a 5-3 win, Boston had seen five straight starters go five innings or more while allowing one run or less for the first time since 1994. It is no coincidence that the team has won four of those five games with Wednesday's triumph over the A's being the first on the road all year.
I don't know what kind of pale-assed nerd tracks stats like that, but it's out there. The Red Sox still have a couple of questions unanswered, magnified by tonight's line-up:
J.D. Drew, RF
Dustin Pedroia, 2B
Adrian Gonzalez, 1B
Kevin Youkilis, 3B
David Ortiz, DH
Jed Lowrie, SS
Carl Crawford, LF
Jason Varitek, C
Jacoby Ellsbury, CF
Lowrie at short is a no-brainer, I thought he should have been the starting SS when the Sox broke camp. But Varitek catching? Have they given up on Salty already (in favor of Tek's .050 batting average)? Or are they buying into the "Beckett is more comfortable with Tek behind the plate" nonsense? And what do we make of Drew leading off again?
I guess none of it matters if the Commander comes out and lays down the law as he's been known to do. Looks like it's back to Red Bull on my Corn Flakes tomorrow morning after another late evening with Remy and DO.