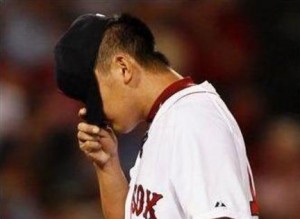 Zero wins, five losses. I'm running out of positive things to say. The Red Sox are still undefeated at home? That's about all I got. Another shaky start, missed opportunities with runners on and a bullpen implosion all add up to another loss.
The floodgates were opened on a rookie mistake by veteran catcher Jason Varitek. When Youk "dropped" a bases-loaded line-drive, the double-play was set up. Youk tagged the bag at third and threw home in plenty of time for Tek to tag the runner out. Except he forgot the force was off and thought the double play was complete when he stepped on the plate. Ouch. Francona had every right to come out and rip the "C" off his chest.
The next batter promptly sent a 2-2 pitch from Dan Wheeler (thanks to The OmnipotentQ for correcting my earlier blunder!) out of the park and that was pretty much game-over as the bats continue to provide ERA assistance to all opposing pitchers. It was Dennys Reyes, by the way, who plunked the first two batters he faced then walked the third to load the bases, setting up Tek's brain fart.
High noon tomorrow, Lester gets a chance to right the ship before the Yankees come to town for the weekend. Anyone getting just a little nervous yet?