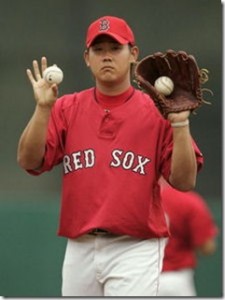 I don't care where this version of Dice-K Matsuzaka has been hiding for the past few years, let's just make sure he sticks around. His last two outings have been…ace-like The win vaulted the Red Sox into a tie for third place in the AL East, and the pain of the ugly start is fading like all nightmares do.
Two-hit performances by Lowrie, Ellsbury and…wait for it…Carl Crawford fueled the offense. Even the Captain chipped in with an RBI double. Timely hitting and great pitching, a combination only topped by chocolate and peanut butter.
For the stat junkies:
The Red Sox extended their streak to eight consecutive games in which their starting pitcher has gone at least five innings and allowed fewer than three runs. The rotation, which has a 1.01 during this stretch, is one game away from tying the longest such streak in franchise history, set in 1946.
Lackey faces his old team this afternoon at 3:30, same time the Celts tip off against the Knicks.
Happy Easter!