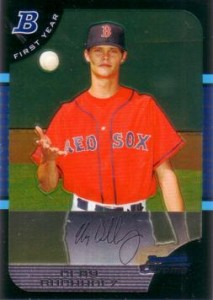 I think it's safe to say that things are getting back to normal in the AL East. With a win tonight, the Red Sox would be an even .500 and could move into second place. It doesn't sound like anything to write home about, but considering their Oriole-like start, it's an upgrade.
The streak they are riding is amazing. We all knew the first two weeks of the season didn't represent what the team was capable of. But we also have to know that the Red Sox starters cannot possibly keep up what they've done over the last nine games. Each game has seen the starter go at least five innings and give up less than three runs. The starting pitcher grabbed a "W" in seven of those games (Jenks got the win in the extra innings game that Beckett started). The ERA of the starters in those nine game is zero-point-seven-something. Superhuman.
Tonight, at a reasonable 7:00 hour, Clay Buchholz tries to make it ten. Given it's the first regular-season match-up with the Orioles since Buck Showalter took a verbal dump on Theo, I'd say the team should be up for this one.
A little bulletin board material:
"I'd like to see how smart Theo Epstein is with the Tampa Bay [Rays] payroll," Showalter reportedly said. "You got Carl Crawford 'cause you paid more than anyone else, and that's what makes you smarter? That's why I like whipping their butt. It's great, knowing those guys with the $205 million payroll are saying, 'How the hell are they beating us?'"
The Orioles have already reclaimed their rightful spot in the cellar, it's up to the Red Sox to help keep them there.