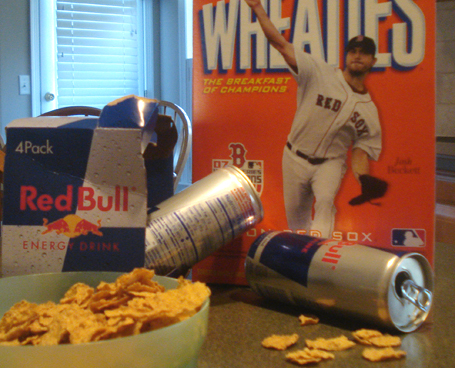 Not a lot to say about last night's win over the Angels, other than I can only hope the line-up had a meat-and-whiskey basket delivered to Josh Beckett's hotel room by four strippers.
Because after watching Commander Kickass go eight solid including five hitless innings while the bats stranded baserunner after baserunner like something out of a goddam Marx Brothers movie, I was convinced that someone was getting shivved on the team bus.
In the end, we'll take the win. But a much-deserved third W for Beckett would have been even sweeter. After the ass-whomping leveled on the Blue Jays last weekend, it kills to see the bats so inconsistent on the road.
Again, a win's a win. Even better, lest we fear the ghosts of 2010 lurking in the shadows, x-rays on Youkbacca, who took a foul ball off the shin, were negative.
My office is closed today in recognition of the Sox' Los Angeles holidays (although, for political purposes, they refer to is as "being closed for Good Friday"). That means rest and nourishment in prep for tonight's late-night start. And considering any holiday packages that include unlimited use of the DeMarlo Hale Sauna. See you then.
Also, commenting is coming back slowly but surely after LiveFyre was affected by the Amazon outage. All lost comments should be re-synched once things are back to normal. Thanks for yer patience.