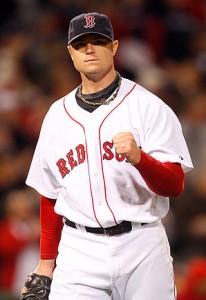 It's amazing how quickly things turn around. One day your team is the laughing stock of the baseball world, criticized for every move as they struggle in every facet of the game. A week later, every starter is making opposing batters look silly, the wins are piling up, and Remy has Orsillo giggling like a school girl in the broadcast booth. The standings may show the Sox chillin' in the cellar, and this one got a little uncomfortable at the end, but they are playing some pretty good baseball.
Lester pitched six strong shut-out innings, giving up just four hits while striking out eight. And get this: Jarrod Saltalamacchia caught the game! Salty had a hit and was given an intentional walk, but man did he look like a jackass when he couldn't find that passed ball in the eighth. But based on Lester's start, can we please get over the "Tek needs to catch Beckett and Dice-K" madness now? Next thing you know Doug Mirabelli will be pulling up in a State Police car to save the day from the evil clutches of Salty.
The biggest concern on this team should not be the starting pitching or the catching situation, it should be Carl Crawford. His average is now down to a buck-thirty-five and he is showing no signs of breaking out. He looks miserable at the plate. If anyone can find a way to get him back on track, it's Tito. I seem to remember Dustin Pedroia batting in the one-thirties in April of '07, then going on to win Rookie of the Year.
Tonight, we get a bit of a break with a 9:05 first pitch. The Dice-man tries to keep the string of good starts rolling (can't say "Quality Starts" because Buchholz didn't go six innings). Represent.