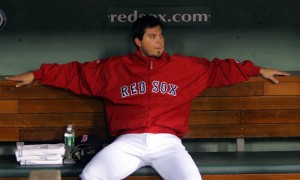 I think it's a little too early to demote the Commander down to Corporal Kickass just yet, but he certainly didn't turn in the performance the Red Sox needed. Beckett threw a lot of pitches (106) in just five innings, and just couldn't get the strikeouts when he needed them.  The result: four walks and a lot of extra pitches to get out of the third and fourth innings. Call me a homer but the strike zone looked a little tight. The good news from the pitching front: zero home runs.
The real story is the bats, that have gone colder than Jacobs Field in April (game time temperature last night a not-so-balmy 42 degrees) . The team is now batting a humiliating .186 on the year. And I say: so what? The only person who should be worrying about it is the next pitcher the Sox face – that means you Mitch Talbot. Because when these bats wake up, there will be thunder.
I can't believe I'm about to say this, but it's up to Dice-K to put the Red Sox in the win column. And here's a nonsensical stat that should boost your confidence: in games that Dice-K got the win, he's 46-0. So he's got that going for him, which is nice.