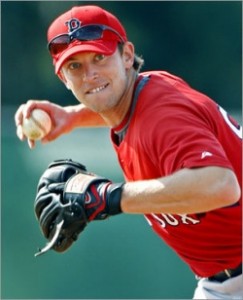 There really aren't too many unanswered questions surrounding the 2011 Red Sox. Other than some uncertainty at the catcher's spot, and the nagging fear of Dice-K's effectiveness, the team is pretty solid. So when I came across this story about the shortstop position, I was compelled to respond.
Let's remember that before Lowrie put it all together for one month—less than a month, really—he spent almost three seasons trying to find his way consistently onto the field.

He's spent almost all of his Red Sox career as a member of the walking wounded, with some nagging ailment or another keeping him off the field for extended stretches.

He's had plenty of chances to stake claim to the shortstop post as a revolving door of transient fill-ins wobbled through and hasn't come close to doing so.
Yes, Lowrie has been hurt for the better part of the past three seasons. But the "nagging ailments" mentioned have really been three isolated, completely unrelated issues. One season was a hand injury, the next a wrist injury, and last year was mono. Not exactly the same as having a bad hammy or shoulder problems year after year.
I don't disagree that Iglesias looks like the real deal, but seriously, he's played one season in the minors. I think if Scutaro does start the season at shortstop, it won't be permanent. Lowrie is just too good to sit on the bench or be a utility guy. I say give him a shot at a full season and see what he can do. Who's with me?