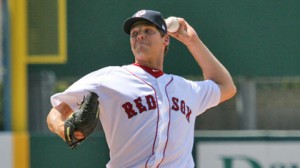 He's a local guy from Milton who has bounced around in the majors for a few years battling injuries. Last year he got the call he'd always dreamed of: a chance to pitch for the Boston Red Sox. As the 2011 spring training season winds down, Rich Hill remains a left-handed option out of the pen.
If he does make the big club, credit his success to John Farrell, who picked up on Hill's ability to throw sidearm.
Hill used to throw with more of a three-quarters delivery on the mound, but he tended to drop his arm down during long-toss sessions on the side. It felt so natural that then-Red Sox pitching coach John Farrell suggested last September that he take the motion to the mound with him.

"It's just natural to go down there," Hill said. "There are some guys where they say, 'Can you throw sidearm?' and it's a difficult adjustment. But, for me, it just feels like it's a natural thing. It just feels natural. It really does.
Hill has pitched seven-and-two-thirds innings this spring and has yet to allow a run. Four hits, two walks, five strike outs…and zero runs. In one of his appearances last week, he went two innings giving up just one hit and striking out two…against the Yankees.
Hill is scheduled to get some work today against one of his former clubs, the Cardinals. Keep an eye on him.