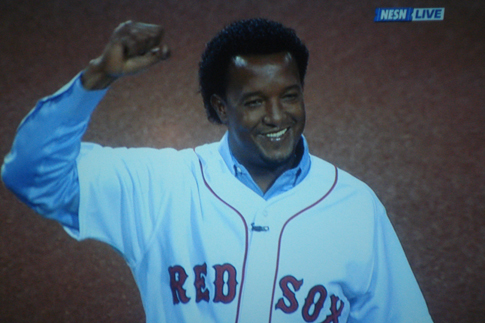 In his Baseball Notes column in the Sunday Globe, Nick Carfado makes the following suggestion to Red Sox management:
…sign Pedro Martinez, let him get ready at his own pace, then pop him into the majors after the All-Star break. What would be more exciting than that?
At first, I just dismissed it as the sort of thing you read over your Wheaties and gin and don't give a second thought to. But I just couldn't shake it. And now, a day later, I'm still asking myself, "Why not?"
On the down side, he's older. And more fragile. And his work in the 2009 World Series is probably closer to what we'd get than his seven inning, no runs, two hits thriller in game two of that year's NLCS. And I hate to dirty up the memories of Pedro riding out of town after helping us secure the World Series title we'd been hoping to score on his watch.
But that nostalgia-loving, vodka-quaffing side of me says that if he'd take on whatever role Teets asked of him and if he'd be willing to spend his summer fine-tuning himself for the late season drive, his addition could put a season already brimming with promise into overdrive. Hell, even if we only used him in one game against the Rays, just to see Manny and Johnny D face him, I'd consider it money well spent from an entertainment perspective.
Look, it'll never happen. But if the stars somehow aligned and it did, I'd welcome Pedro 2.0 like my man Steve Perry–with open arms.