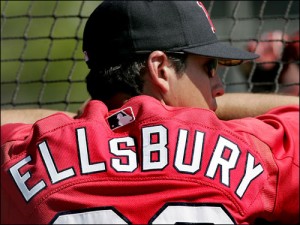 All winter we've been speculating on the 2011 Red Sox. Will Beckett and Lackey rebound from their sub-par 2010 seasons? Will Pedroia and Youk be 100% recovered from their injuries? Will this be the year Remy and DO are caught making out on camera? How will Crawford and Gonzalez fare at Fenway?
But nobody seems to be talking about the return of Jacoby Ellsbury. Here's a guy who, in 2009, hit .300 with 70 steals, 10 triples, almost 100 runs scored, and threw in a few home runs and doubles. Yet nobody seems to be paying any attention to his comeback from an injury-plagued 2010.
Well, maybe we should be: yesterday he went 3-for-4 with a double, a stolen base, an RBI and a run scored. Not a bad day's work for someone whose name is rarely mentioned. For the spring, he is 6-for-16 (.375) with a .412 OBP.
Keep an eye on him this year.