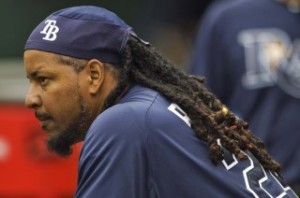 It's no secret around here that I'm one of the few Manny fans left. I don't buy half of the nonsense that drove Manny out of town. So he didn't sprint down the line on every groundout? Watch Tek or some of the others…everybody takes an easy-out jog to first once in a while. And let's be honest, sometimes guys like Youk and McCormick need a little "talking to."
He may have found the perfect home in Tampa under the wacky "leadership" of Joe Maddon. I foresee a lot of great material coming out of Florida this season, and according to Danny Knobler, it is starting already.
"Let's all be like Manny," Maddon said. "He's pretty good. He's a Hall of Famer."

So while Manny still has his dreadlocks, they compete on this team with bench coach Dave Martinez's full beard, and with Evan Longoria's mullet, and with Johnny Damon's fauxhawk, and with whatever that is atop J.P. Howell's head.

Maddon insists he's going to grow his hair long, too.

"This offseason, I was going through some slides from 1978, and I had really long hair," Maddon said. "Then I came here and saw Davey's beard, and I thought in some subliminal way it was telling me this was the time to grow hair."

So, in a way only Maddon can, he made it a team thing. He told everyone to grow hair or beards or whatever, and he told Marc Topkin of the St. Petersburg Times that "I want us to be the hirsute club this year. I encourage the growth of follicles."
This should be good.
Meanwhile, the Red Sox 4th starter is tuning up his game on NESN. Get over there and watch.