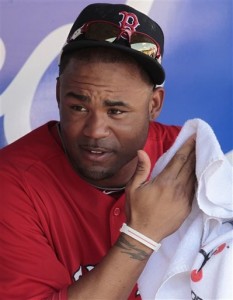 The big story, if you can call it that, was Carl Crawford facing his former team for the first time.
"I just try to tune them out, so I really didn't hear too much," he said. "I kind of figured there would be some things yelled at me, but there really wasn't much said. They were better than I expected. It really wasn't bad at all."
I'm guessing there were a lot of Red Sox fans at the game, I'm sure the fans at the Trop won't be so forgiving when the season starts.
The most distressing part of the game was Dice-K's line: 3-and-two-thirds innings, five hits, two walks and five earned runs. He's been saying all spring he's working on certain pitches…he better work a little harder.
Funny story from Rays morning practice:
Capping a morning baserunning drill, some players broke into their most outlandish home run trots. Felipe Lopez took off his jersey. Matt Joyce went shirtless. Then Ray Olmedo rounded the bases with his pants around his ankles. "Next time I'll go naked," Olmedo said. "Got to keep it fun."
Let's hope Youk doesn't try this in a real game…