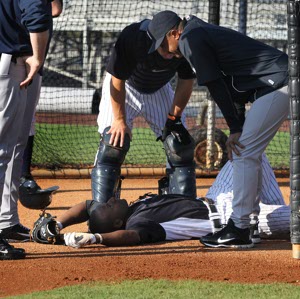 Every off-season it happens: the Yankees make a big free-agent signing, the Red Sox make a counter move. Or the Sox make a trade, and the Yankees scramble and make a bigger trade. It's been the nature of the rivalry dating back to when the Yankees traded "Clubber" Klegg and some rocks to the Red Sox for a basket of "fire-sticks" and a player named Ull, who looked eerily like Johnny Damon, and was said to hit a Pterodactyl bladder further than all others. Cave drawings, the predecessor to baseballreference.com, don't lie.
But do they have to take it to the extreme? While reading about Ino Guerrero introducing the baseball to Josh Beckett's skull yesterday, I find out it was just some f%&ked  up attempt to one-up the Yankees? On Sunday, AJ Burnett decided to headhunt one of his own:
Fright invaded Yankees camp yesterday when A.J. Burnett hit Greg Golson in the head during a morning batting-practice session on a back field at George M. Steinbrenner Field in Tampa.

Golson went down and stayed on the ground. Eventually he was taken off the field on a cart. The outfielder was taken for tests, which were negative.

Because Burnett led the majors with 19 hit-by-pitches last year, it was easy to blame the beaning on erratic control. However, the angle of the intense morning sun in a cloudless sky made picking up the ball difficult for the batter.

"He [Golson] probably won't play [today]," said manager Joe Girardi, whose club travels to Lakeland to face the Tigers. "But he is OK."
That, ladies and gentlemen, is your 2011 New York Yankees third starter behind CC Sabathia and Cliff Lee Phil Hughes. But wait, isn't Josh Becket really the third starter for the Red Sox? Could this be one of those set of  "strange coincidences" like in the lives and deaths of Abraham Lincoln and John F. Kennedy. Their third starter hits a guy in the head, our third starter gets hit in the head? Think about it.
Today, the Sox face…let's see…the Twins! The epic event that is the Mayor's Cup continues…