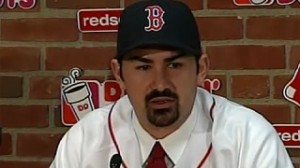 We've been watching every move the guy makes since joining the Red Sox. It was front-page news when he was hitting off a tee and the lead story when he batted in the cage. Today, Adrian Gonzalez played his first spring training game as a member of the Sox:
"You'd think that after that long a wait and coming off an injury, he'd be a little jumpy," said Red Sox manager Terry Francona. "He was probably anything but that. Nice little liner to left, and then he had a nice at-bat where he got the sac fly. So it's a good start. He wanted to stay in, and I think that's also good.
Jacoby Ellsbury had another huge day: 3-for-3 with a home run, two doubles and three RBI. He is playing like he has a lot to prove this season. Pedroia was also 3-for-3 and Ortiz chipped in with two doubles.
And we're a day closer to real games.