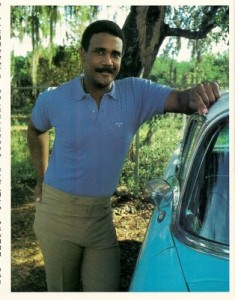 Hey ladies, Jim Rice here. Not the Hall of Fame Jim Rice on NESN with the complicated glasses and the multicolored suits. This is the real Jim "Ed" Rice, the guy that hits home runs and chases down bad guys in the stands and saves kids' lives. See those fine slacks in the photo? Those are half polyester, half cotton, and half gabardine. But that package in the front-court? That's one hundred percent Jimmy.
But I'm not here to talk about me, I'm here to talk about the Red Sox. YourRed Sox, the 2011 team. They are going to be one badass team. And that's coming from a guy that knows a lot about badass. They've got hitters that can hit the ball, pitchers that can pitch the ball, and a bunch of guys with good gloves that can catch the ball. That's a baseball team, ladies and gentlemen.
And here's what I came all the way to 2011 to tell you: this team is going to win 100 games. That's something special, something even me Fred and the rest of my posse never did. So you all better hold tight and pay attention, you are about to see something special. Now if you'll excuse me, I'm off to play another round of "things found in Oscar Gamble's Afro." Peace.