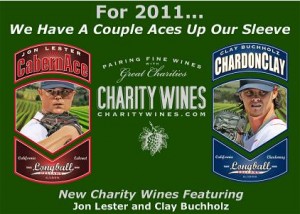 Yeah, that title is a quote from the Book of Psalms, proving once again that you just never know what you'll find when you stop by Surviving Grady's house.
Well, it saddens me to say that once again, my suggestion to make a Heidi Watney charity wine was rejected. As a matter of fact, a gag order prevents me from mentioning the name I came up with…but at least I got a response. Which is more than I can say about the script I sent to NESN for "Baseball Reporters Gone Wild" in which a couple of innocent bloggers get more than they bargain for when they are interviewed by Heidi Watney and Amalie Benjamin. Anyway, the folks over at Longball Cellars have come up with a couple of winners once again this season..
Debuting from Longball Cellars are charity wines for Boston baseball pitching aces Clay Buchholz and Jon Lester. The players do not profit a single dime. Instead, 100% of their proceeds will raise big league dollars for charity:

– Clay Buchholz: ChardonClay, a chardonnay, benefits the Jimmy Fund

– Jon Lester: CabernAce, a cabernet, benefits Fred Hutchinson Cancer Research Center

The 2011 wines are produced by acclaimed the Selby Winery located in Healdsburg, California. Both wines are expected to retail for about $14 a bottle, and will be available beginning in May 2011 across Red Sox Nation. For wine connoisseurs and Sox fans out of region, wines can be purchased online at www.charitywines.com.

Retailers can begin placing their orders beginning today, and wine will hit the shelved in May.




SAVE THE DATE

Clay Buchholz and Jon Lester will host a private launch party for members of the media and the wine industry. NESN Red Sox Reporter Heidi Watney will emcee.
– When: Thursday, May 5, 2011 at approximately 5PM (immediately following the Red Sox day-game)

– Where: Foundation Room, House of Blues – 36 Lansdowne Street Boston, MA

Those who attend will be able to taste the wine for the first time, and have an opportunity to speak with Clay Buchholz and Jon Lester. The Jimmy Fund and  Fred Hutchinson Cancer Research Center will also have booths so that more information can be learned about their commitment to the communities they serve.
There were a few hopeful moments when Red and I considered attending. We knew "members of the media" didn't include us, but if "members of the wine industry" meant guys that slug down half-gallon jugs of the stuff that we spent our last five bucks on, we had a shot. Unfortunately, the "Heidi Watney will emcee" part prohibits us from attending due to some unresolved legal matters allegedly involving face paint, binoculars and a couple of fake bellhop suits. But it sounds like a great event for those, you know, eligible.