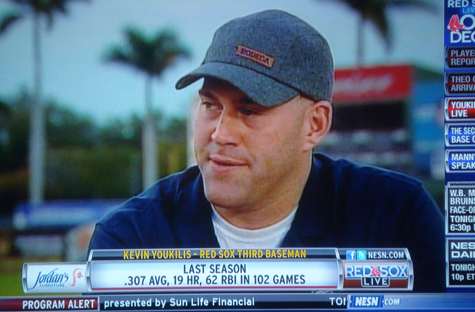 As I've pointed out numerous times in the past, I believe Bearded Youkbacca gives the Sox more of an edge than Clean-Shaved Youkbacca. In fact, as I once put it so eloquently, whereas Bearded Youkbacca is the guy who strikes fear in the hearts of mortal pitchers, Clean-Shaved Youkbacca is "the guy who packs your groceries at Shaw's, the guy who passes the collection basket at Sunday mass and sometimes joins the choir for a heart-wrenching rendition of Ave Maria, and the guy who checks out Superstars On Ice because he wants to see 'what that Scott Hamilton fellow is up to.'"
So, needless to say, I was a little shaken when I saw Youk being interviewed on NESN the other day sans monster beard. This is a season already brimming with promise and expectations, man. Why torpedo our dreams by getting rid of that sauce catcher when we need its powers most?
I'm sure it's just a phase. The last remnants of his off-season "humanizing." As I pointed out in our latest podcast, Youk can grow a beard in the time it takes you and I to drink a glass of water. And I'm certain that, come opening day, he'll be getting his Sasquatch on at third base.