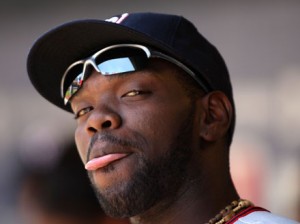 How many hard-working young ball players out there would kill for the shot that Elijah Dukes was given? A third-round draft pick in 2002, a five-hundred-thousand-dollar signing bonus from the Rays, and over a million dollars earned in his first three seasons in the majors. Now, at age 26, Dukes has pissed it all away and is trying to re-invent himself as a rapper.
The Tampa Tribune has the whole story of "Fly Eli" and his troubled past:
His dad killed a man. He's had run-ins with the law, troubles at work, six babies by four different women. Most of the millions he has made is long spent or tied up in alimony and child support.
The interesting part of the story is Dukes' accusation that he was blackballed by Major League Baseball:
Dukes – who played for the Tampa Bay Rays and Washington Nationals – says he was blackballed by baseball after he came forward last year with allegations that fellow ball players were smuggling drugs onto chartered aircraft, using drugs in hotel rooms after flights and how he would sometimes smoke marijuana before home games when he played for the Washington Nationals.

"That is why I ain't got no job right now," says Dukes.
It's a pretty sad story of a kid who could have lived the dream, but threw it all away. Then there's this:
The walls of the tiny bedroom on E. Genesee Street that Dukes uses as a study are adorned with several bullet-ridden silhouette targets and a mugshot from one of his arrests.

"My girlfriend and I like to shoot targets," he says, explaining the décor.
Guns! There's what a pot-smoker with a history of domestic violence needs. Something tells me the tough times aren't over for Dukes.