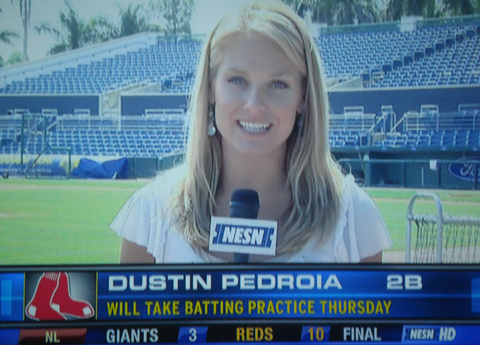 Hello, Spring Training. Good to see you.
It's pretty obvious I've been scoping you from the other side of the bar. Since last November, to be precise. And I'm pretty friggin' excited that you've finally dropped your guard and decided to approach me.
But before we go any further, I have to be honest. This is a temporary thing.
Make no mistake: I'm smitten with everything you bring to the table. The shots of a slimmed-down John Lackey working off the mound? Clips of Adrian Gonzalez and other early arrivals milling about the complex? Live reports from Heidi, perched come-hitherishly under a row of sun-kissed palm trees? Jerry Remy taking us on a guided tour of the local Sizzler? Hells yes! This is the stuff I've been waiting for. The stuff I've been dreaming of since tossing the last of the Halloween candy and fueling up the snow blower.
Right now I'm dizzy and delirious and ready to tell your folks I'll make an honest woman of ya. However…
In a few weeks, things will change. It just won't feel special anymore. I'll be tired of watching Stolmy Pimentel, Luis Exposito and Oscar Tejeda going through the motions. I won't be able to stomach another shot of D.O. in shorts. And games that don't mean anything will start to mean even less.
Then, inevitably, the comments will begin. About how hot your sister, The Regular Season, looks in her jeans. How she can totally come with us to dinner or the movies or on that trip to my Uncle Milt's farmhouse because he can always use another set of hands. And there's plenty of room in my souped-up '96 Camry.
Pretty soon, she'll be all I'm thinking about. And when that happens, well… we all know how this goes.
It's the same thing every year. I can't wait for you to get here, but almost as soon as you arrive, my thoughts start to wander. Sure, I love you madly, but I love her just a little bit more.
So please don't take it personally. If you're down for a couple weeks of hot Caron-on-Caron action, with no strings attached, then I'm your guy. But you need to know that my heart belongs to another. I'm sure, by now, you understand.
Oh, and tell your sister to text me sometime.