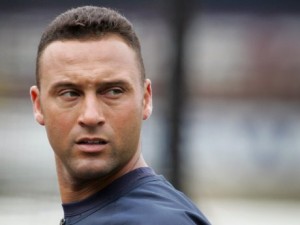 It's been far too long since we've had any kind of Steinbrenner uprising. But finally, after grossly overpaying for another three years of Derek Jeter, Hank speaks:
"Sometimes you celebrate too much, players concentrating on building mansions and not concentrating on winning,'' Steinbrenner said in the hallway of George M. Steinbrenner Field on Monday.

Asked if any player besides Derek Jeter was building a mansion, Steinbrenner responded by saying, "I am not singling anybody out, but maybe riding the wave of '09 was too much.''
The New York Post story mentions Jeter's 30,000 square-foot, nine bathroom mansion nicknamed "St. Jetersburg" by locals. Nine bathrooms? Does he know he can put mirrors anywhere he wants, not just in bathrooms? Jeter also has a memorabilia room – does that mean his undeserved Gold Glove awards are in there, or…maybe a bunch of bikini tops?
This could be a train wreck of a season for the pinstripes. Brian Cashman has already lost his mind, now Hank Steinbrenner is taking a dump all over the face of the Yankees. April can't get here soon enough…