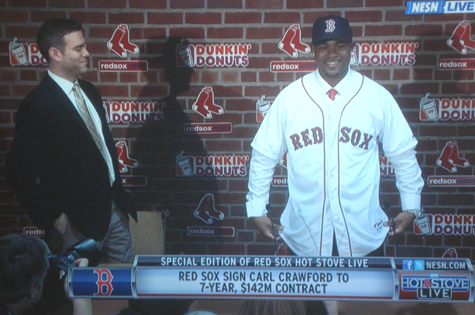 Catching up on some of my reading over the weekend and I was especially smitten with an article in USA Today chronicling A-Gon and Carl Crawford's indoctrination into the madness that is Red Sox Nation. There's a great bit about Crawford's run-in with Ben Affleck, but the best part, for me, was when Crawford compared playing to sparse crowds at the Trop to the frenzy that awaits at Fenway come April.
"It was tough last year. You're in first place, you're coming off a big road series where you beat Boston and New York. You're coming home with all of that momentum. You run onto the field all hyped up. Then, you look up at the (empty) stands, and say, 'Are you serious?' It gets you down. You want the energy the other teams have, and you don't have it.

"But in Boston, what I hear is you can have a broken arm, you hear all of those people screaming and yelling, and you forget about that arm and you're playing. I can't wait."

"Everybody's always saying, 'If you don't do things well, they're going to boo you.' Well, that's the way it's supposed to be. I'm looking forward to it. I definitely don't want to let those people down."
Man, you couldn't bring me down right now with a two-ton anvil. Workouts for pitchers and catchers begin this week. And suddenly, the twenty-foot snowdrifts outside my place don't bother me.