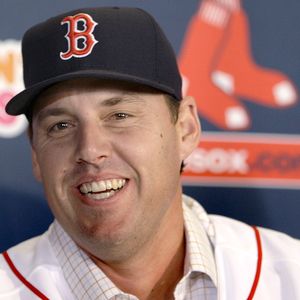 The heart of a lion? Not exactly. The Red Sox should put stupidity clauses in their contracts that allow them to send players packing when they open their mouths and ineptitude and apathy spill out.
"Honestly, I think it was overblown," he said Monday about those who measured his season a disappointment. "I'd won 14 games only once in my life. I led the team in quality starts. Whatever."
Instead of being pissed off that he went 14-11 with a 4.40 ERA while carting millions of unearned Red Sox dollars to the bank, he seems pretty OK with it. How about the fact that he allowed more base-runners than any other pitcher in baseball? Or that he averaged three walks per nine innings? Or had a 1.419 WHIP? Those numbers add up to a crappy fourth starter, not an 80-million-dollar ace. For that money, he should at least act like he gives a shit.