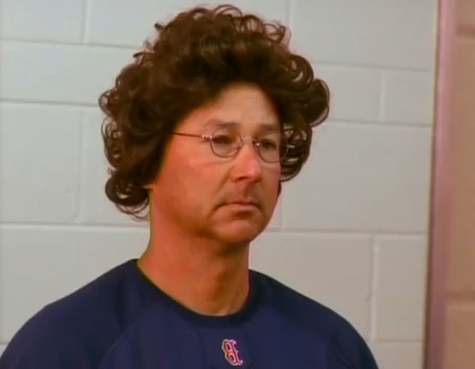 Since he landed with the club in 2004, Terry Francona has been like our own, personal Captain Picard, taking us boldly where no Red Sox teams have gone in our lifetimes, tackling exotic and often dangerous alien life forms (Mariano Rivera, Youk's jockstrap), and generally keeping the universe safe from intergalactic scum (see ALCS, 2004).
It didn't seem that way at the start, though. In fact, in the aftermath of game seven of the 2003 ALCS, it was easy to think that Sox management would want to replace Grady Little with someone a little more, shall we say, malleable. A figurehead who would take orders from upstairs so that, for example, a Pedro Martinez would be lifted when it was obvious to everyone but the team's manager that the guy just didn't have it.
When Francona first came on the scene, that's the kind of stuff we heard. "He's just a puppet taking orders" or "He's got the job because Curt Schilling wanted him" or "They say he still wears footy pajamas. Isn't that odd for a guy in his fifties?"
But now, seven seasons and two World Series championships later, it's pretty clear that Francona is The Man. A solid, stand-up guy who knows that the secret to getting the most from your team's high-priced talent isn't kissing their asses or tossing coolers but showing respect and keeping a level-head. And if you need any more convincing, ask yourself this: What other Sox manager would don a wig and space out for a team-promoting TV commercial (as captured in the screen shot above). Unless we're talking Ralph Houk during the "experimental acid years," not many.
So it was good to hear even an uncomfirmed report in the Globe that "the Red Sox intend to pick up Francona's two-year, $9 million contract option at the end of the season. That would extend his deal through 2013."
Look, he makes me crazy sometimes, too. I hear the "Francoma" comments on sports radio and see him promoting an image as the world's hippest AARP member with every Bigelow tea commercial. But after suffering through this site's namesake and The Williams/Kerrigan ticket and even cult figures like Butch Hobson and Walpole Joe Morgan, I can honestly say there's no one I'd rather see at the helm than Mr. Teets.