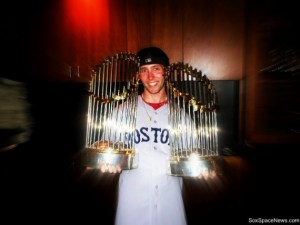 Congratulations to Red Sox Nation Governor Jared Carrabis, who swept the New England Sports Blog Awards last night. Sox Space was voted Best Red Sox Blog for the second consecutive year, and also Best New England Sports Blog (overall). A huge and well-deserved night for one the biggest Red Sox fans out there.
Thanks to Rafe Anderson at TruFan for putting the awards night together at Remy's.
Also good to see old friends from SupahFans and Bottom Line Apparel at the event.
Looks like Red and I are going to have to step up our game this year.
Congratulations to Jared and thanks to all that voted!