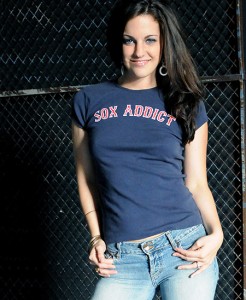 No, silly, I'm not talking about Lindsay Lohan. I'm talking about making 2011 the year of the Sox addict. Granted, we will never experience the magic created by Red's "Who Died And Made You Mark Bellhorn" shirt, but the Sox Addict shirt kind of says it all.
I have visions of NESN panning the crowd at Fenway showing a sea of blue shirts with the now-famous phrase. Heidi would come on to give us an update on Drew's hammy and a Sox Addict baby-doll shirt (somehow wet) would be clinging to her braless "Watney's." Back to Remy and D.O. in the booth, and of course they are both rocking Addict attire. Orsillo has "customized" his by cutting off the sleeves and making it a half-shirt Will Ferrell-style to show off his newly cut abs and his successful laser stomach-hair removal procedure.
Naturally, Red and I would be watching the broadcast from the secret Surviving Grady penthouse while scantily-clad "assistants" served up Twinkies and Black Label and a team of Swedish accountants "balance our checkbooks" during the seventh-inning stretch.
So what do you say…are you a Sox Addict? Spend the 14 bucks on a cool shirt, or on bubble gum or aging Lithuanian hookers.
Your call.