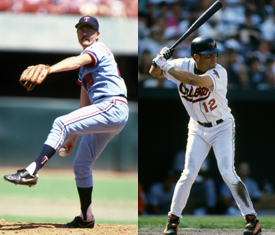 Bert Blyleven and Roberto Alomar were announced as the newest members of The Baseball Hall of Fame. Oddly, Blyleven made it in his 14th year on the ballot…not sure how he wasn't good enough back then, but after not playing for 19 years he has improved and is now HoF caliber. But then again, I really don't care. Hell, Blyleven should have been voted in just for this:
Over the course of his career, Bert was a well-known character and comedian in the clubhouse. One of his favorite tricks was giving a player the "hot-foot" by setting his shoelaces on fire. For that, many of his teammates called him the "Frying Dutchman". Bert was also known for numerous other practical jokes and always telling a good joke.
Alomar's road to the Hall was much shorter. After missing out by less than two percentage points last year, he was elected with over 90% of the vote this year. One theory, that I subscribe to, is that he was being punished for the "spitting incident" because he certainly has the numbers to back a first-ballot entry. Evidently the accusations that he shared more than bodily fluids with his wife were not taken into account.
In other news, Benito Santiago and Bret Boone each received one vote.