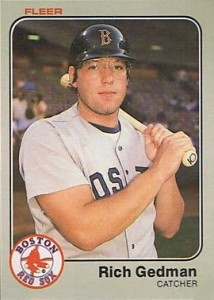 Rich Gedman was a huge part of my second favorite Red Sox team, the 1986 club. Coming off a huge season in '85, Gedman's production dropped a bit in '86 when he hit just .258 with 16 homers and 65 RBI. But check this out: Gedman threw out fifty percent of runners trying to steal on him. I don't know if that has been done since?
Gedman's career took a nosedive after that almost-magical season, plagued by injuries, holding out for a bigger contract, and seemingly forgetting how to hit a baseball. A lot of people blamed hitting coach Walt Hriniak for ruining Gedman's swing. Now, Gedman is the hitting coach for Lowell, and it's this comment that scares me:
"I didn't invent anything but I can pass on the things I learned from people like Walt Hriniak when I played. I had the work ethic and I understood the approach to hitting and how to prepare.
We'll always have '86…