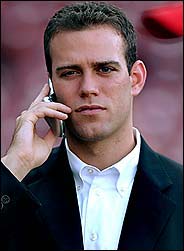 Theo's record of never having to attend an arbitration hearing remains intact after the signing of Jacoby Ellsbury and Jonathan Papelbon. Each player received a one-year deal after struggling through the 2010 season, though for very different reasons.
Ellsbury only played in 18 games last year thanks to a rib-breaking collision with Adrian "The Terminator" Beltre. His 2011 deal is worth $2.4 million with an additional $100,000 incentive based on plate appearances.
Papelbon, in his last season before his long-awaited free agency, will rake in $12 million this season, second only to Mariano Rivera in relief pitchers. Based on last season, that's $324,324 per save. Or, if you're a "glass half empty" kind of person, it's $1.5 million per blown save.
My opinion: if that $12 million contributes to the opportunity to see Paps doing the jig after winning another World Series, I'm all for it.