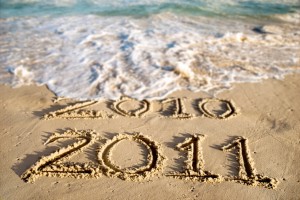 I hope everyone had a safe and festive New Year. Now that I'm sober for the first time in 2011, I wanted to look back one last time at 2010. I'll get to the Sox in a minute, but first I have to get this off my chest: it's time to put Dick Clark out to pasture. Watching him on the New Year's Eve special was painful, it was like a bad SNL skit. Not that I want more Ryan Seacrest face time, but Dick needs to call it a career.
Now, the 2010 Red Sox…it's kind of like "the season that wasn't." I know it's been talked to death but holy f@$k, those injuries! We are going to look back in amazement at the fact that they somehow won 89 games. Any other team hit with those losses would have gone down faster than Lindsay Lohan in the back of a limo. You have to wonder "what if"…Ellsbury, Youk, Pedroia, Beckett, Cameron, Varitek…
In our little corner of the Web, we had our own bumps and bruises to deal with. Our site got effed over by some kind of hack or worm or some shit, we (meaning Red) had to rebuild the entire site on a new platform thanks to the New York Yankees of the Internet known as Google, and our "comments" tool went through some changes. Yet here we are, still, fighting the good fight.
We have some pretty cool stuff in the pipeline for 2011, it shouldn't surprise anyone that puppets are involved! And Red has promised to bring back the African Anteater Ritual Dance at the 3rd Annual SG Jimmy Fund Event. You won't want to miss any of the shenanigans we have planned. Bring on 2011…