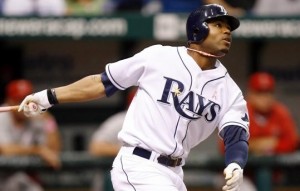 Okay, I made up the second half of the headline, but the Red Sox apparently did sign Carl Crawford.
A Major League source had told the Globe the deal is for seven years and $142 million.

With Gonzalez reportedly having agreed to a seven-year, $154 million extension to his contract, the Red Sox have invested $296 million in a span of four days. The additions of Gonzalez and Crawford, two stars in their prime, should set the team up as contenders for years moving forward.
The Yankees have reportedly made a six-year, 140-million-dollar offer to Cliff Lee. After what the Sox have done in the past few days, Cliffy should send the Yankees home to sharpen their pencils, his value just went up.
Raise your hand if you're still bummed about losing that catcher guy…what was his name?