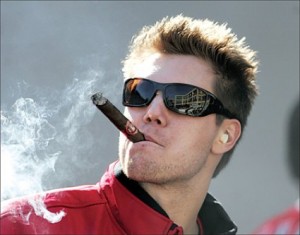 With Daniel Bard already waiting in the wings, could the Red Sox signing of Bobby Jenks signal the end of the Jonathan Papelbon era in Boston?
Papelbon has been very outspoken about "setting the bar" for other closers in terms of salary, making his long-term future in Boston an uncertainty , but this could shorten his stay. 2010 was, by Papelbon standards, a bad year, but his stats were mystifying. His ERA doubled and he blew a career-worst eight saves, but his hits allowed, walks, strikeouts, innings pitched, homeruns allowed and total saves were very similar to his 2009 season. In fact, even the saber-geek stats that I don't even understand looked eerily like 2009.
What does that tell us? That he just wasn't getting the big outs when he needed them? That he was just unlucky? I have no idea, but watching him pitch last season was like sitting in the waiting room at the proctologist's office. You just couldn't get comfortable.
What is the pulse out there: is the Jenks move strictly to strengthen the bullpen and protection against an injury to Paps or Bard, or is there a trade in the works? The way Theo has been wheeling and dealing, a trade would not be a surprise. Personally, I'd like to see Papelbon stick around for at least one more October dance.