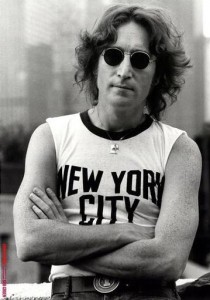 It was this night, thirty years ago, that the world learned of John Lennon's death. I heard the news from the unlikely source of Howard Cosell while watching the Pats-Dolphins game on Monday Night Football. Just three days removed from my 17th birthday, the news made no sense to me. A musician gunned down on the streets of New York City? Assassinated? I thought that shit was reserved for presidents and other world leaders?
Lennon had just released his Double Fantasy album a few weeks earlier after five years of musical silence. It included songs that were vintage John Lennon such as Woman, Beautiful Boy and Watching the Wheels. My favorite cut, (Just Like) Starting Over, the first track on the album, suggested the ex-Beatle was back in the music business to stay after his five year hiatus to help raise his son, Sean. But it wasn't meant to be.
I went to a tribute in Boston…maybe at City Hall Plaza, I can't remember…and was amazed at the number of hollow-eyed fans who gathered to listen to Give Peace A Chance blasting over the loud-speakers. Most of them were probably as stoned as I was. A week later, at my first Springsteen concert, Bruce halted the show and paid tribute to Lennon…my memory is failing but I think they played a recording of "Imagine." Early in 1981, my senior class voted Imagine as our prom song (I voted for Seger's Famous Final Scene, for the record).
Hard to believe it's been thirty years. I can't help but wonder what he would have accomplished had he lived, musically and otherwise. It's the picture below that haunts me most. I actually still have the grainy black-and-white original I cut out of the Globe so many years ago: Lennon signing an autograph for the man who would soon-after end his life…