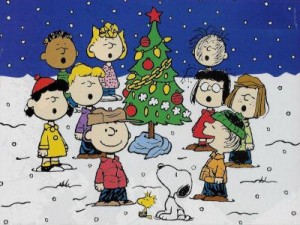 If you've been reading this blog for any length of time, you've probably figured out Red and I have…how shall I say it…different…tastes. Christmas tuneage is no exception. To be honest, I never heard of any of the songs on Red's list (other than number six of course). I tend to gravitate towards the classics, meaning if I hear Santa Baby or Grandma Got Run Over By A Reindeer or dogs barking Jingle Bells, there might be a hostage situation.
In no particular order:
"White Christmas" by The Drifters: Made popular in the first Home Alone movie, this song is simply awesome. Great vocals and a little more upbeat than the white-toast Bing Crosby version. And to be honest, the movie is pretty funny.
"Silent Night" by Sugarland: If some version of this song isn't on your Christmas playlist, do you even know what the holiday is? I chose Sugarland's version, quite simply, because Jennifer Nettles belts it out, unlike the more popular Stevie Nicks version.
"Silver Bells" by Kenny G: This is the perfect Christmas saxophone song, and who better than Kenny G to wail it out…unless Clarence is available.
"Santa Claus is Comin' to Town" by Bruce Springsteen and the E-Street Band: Speaking of Clarence…you just gotta have some Bruce on any playlist. It's a fun song (granted, waaay overplayed on the radio) and again, great sax solos.
"Put A Little Love In Your Heart" by Annie Lennox and Al Green: Not really a Christmas song, but it does come on at the end of Scrooged, so it counts. Listen to the lyrics, that's really why it counts.
"Linus and Lucy" by Vince Guaraldi: If you can listen to this song without cracking a smile, man, you must be dead inside.
"The Little Drummer Boy" by Bob Seger and the Silver Bullet Band: This may be my favorite Christmas song of all. When Bob croons "then, he smiled at me"…it's the true spirit of Christmas laid out for you in five simple words. Just beautiful.
I could go on, but I'm heading out to the Sherborn Nativity Pageant. This is a live "play" that tells the story of the birth of Jesus. It's held every year by the Downing family in a field next to their house. They construct a stable and put a lighting and sound system up, and people just come and take part. They have an entire room in their house full of costumes (townspeople, angels, shepherds, etc.) and everyone is welcome to participate. It is simply the best Christmas event out there. I'm out!