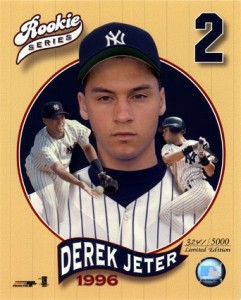 The Hot Stove is heating up early this year. After Hal Steinbrenner said that negotiations with Derek Jeter "could get messy" Jeter's agent fired back.
"While it is not our intent to negotiate the terms of Derek's free-agent contract in a public forum," Close told AOL FanHouse. "We do agree with Hal's and Brian [Cashman, the GM]'s recent comments that this contract is about business and winning championships. Clearly, baseball is a business, and Derek's impact on the sport's most valuable franchise cannot be overstated. Moreover, no athlete embodies the spirit of a champion more than Derek Jeter."

Before Steinbrenner made his comments, Cashman said that he did not believe in paying players for milestones and that winning is what puts fans in the seats. Jeter, 36, is coming off his worst statistical season of his career, having hit .270, which is more than 40 points less than his career average.
The article goes on to talk about A-Rod's ridiculous contract that takes him to the age of 42. Jeter is 36, so any long-term deal would leave the Yankees with the left side of the infield looking like a scene from Cocoon (yes, I'm that old) in a few years. Personally, I think it would be comical to see that smarmy little sh!t end up in a different uniform.