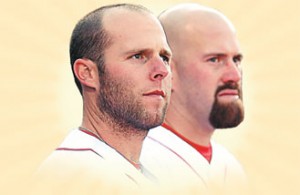 Some good news to get the off-season started on the right foot:
Both Pedroia and Youkilis are on track to begin their offseason baseball activity on time, usually on or around Dec. 1. Had either stared at that small playoff deficit in August and been unable to ignore the call to competition that drives both in an inordinate way, they might've thought of pressing through the pain "for the good of the team."

But knowing that their respective ailments could be fixed without the risk of long-term issues, the decision to turn their attention to 2011 has left the Red Sox in great shape. Their two most important players, who were blowing up at the time of their injuries (Pedroia had his first career three-homer game the day before he was initially hurt and Youkilis batted .391 (25-for-64) in his final 17 games), will be as good as ever once spring training begins.
Meanwhile, Jacoby Ellsbury remains in critical condition and in a full body cast.