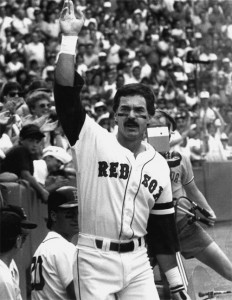 Great article by NESN.com's Matt Couto comparing Werth to Evans. The statistics are incredibly similar:
Jayson Werth: 543 games, .282/.380/.506/.885, 95 HR, 300 RBI, 60 SB, 131 OPS+
Dwight Evans: 544 games, .274/.380/.496/.876, 94 HR, 287 RBI, 12 SB, 135 OPS+
Evans was my favorite player on the old Red Sox teams. He played right field at Fenway better than anyone I've ever seen and he had a cannon for an arm. One thing that stands out is how he made pitchers pay for intentionally walking the batter in front of him. I'm sure my memory is fogged by years of cheap beer and John Hughes movies, but it seems like he always hit a homerun in that situation. We will have to get our crack team of Surviving Grady statisticians on that.
This comparison alone makes him worth a look. And, oh how tempted I was to type "Werth" a look…