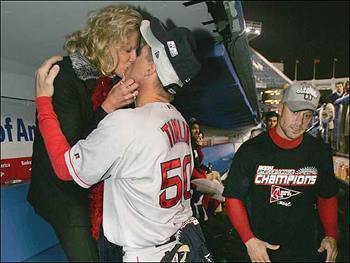 One of the biggest regrets from our shifting this blog from Blogger to WordPress was that seven years worth of comments got lost in the shuffle, due to non-alcohol-related "technical problems."
And while I did love those good luck notes from my Mom, the comments most sorely missed are the ones that folks left after the Sox won Game Seven (which must always be capitalized) of the 2004 ALCS.
They came from across Boston, from New York, from the left coast, from the UK, from Australia, from Canada and from the Asia Pacific region. They gave props to fathers, mother and grandparents who weren't around to see it. And they all shared that sense of smacked-ass dumbfoundedness that had us all rubbing our eyes, almost refusing to believe what we had seen.
Today, on the sixth anniversary of that Game, I wanted to try to re-capture a little of that magic. So I invite you to visit our comments section and let us know where you were when the final out was made. When you realized that 2003 had been avenged, and the Sox were finally the ones stepping over the Yankees to play on the World Series stage.
Hell, I'll even go first. I watched the game at my place with Denton. A far cry from the hooker-packed hotel room I'd always dreamed of, sure, but it was the perfect exclamation point to the first year of this blog (conveniently launched in May 2004). Even with the Sox up by seven in the ninth, I took nothing for granted, and when the last out was recorded, I simply high fived Denton, then collapsed from exhaustion and Twinkie-and-Coors-poisoning. Then I spent a couple hours on the phone with my Dad reliving every second.
Here's what I posted later that night:
Does it even make sense? Dude, we were toast. Done. But we came back. And we treated the Yankees to a whipping never before seen in the history of Major League Baseball.

It is too much to digest. A World Series game at Fenway this Saturday night? OC and Minty and Johnny and Curt and Miller and Pedro and Manny on the national stage? With a chance to bury this alleged curse once and for all?

It makes no sense, and yet it's the only thing that does make sense. I dunno. I'm going to bed. I haven't slept in a week. And now I've got a few days off to charge up for Game One.
Your turn.