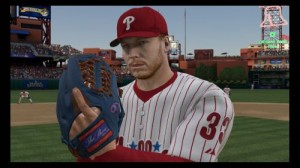 Being a Red Sox fan, I never thought I'd get to the point where I expect my team to be playing in October. But here I am. The nights get chilly and I immediately stockpile beer and tortilla chips, tape up the windows, and park my ass on the couch. Soon enough, reality set in, so I ate my chips, drank my beer, and made the best of it.
Opening night of the second season was impressive. In his first post-season appearance, all Doc Halladay did was spin a no-hitter. He was one walk away from a perfect game as the Phillies shut out the Reds 4-0.
After gracing the cover of Sports Illustrated, David Price promptly had his butt handed to him by the Rangers. Dropping the first game of a five-game series at home…not a good start for the Rays. And game two starter "Small Game" James pitching under pressure, well, could be an early exit for Tampa.
In Minnesota, new home of Randy Moss, another Cy Young contender laid an egg. The Yankee bats did their thing and took the lead late. Enter The Sandman with two on and two out in the eighth, and the Yankees win game one of their series.
As Meatloaf taught us, two out of three ain't bad. But man, I wish the Sox were still playing.