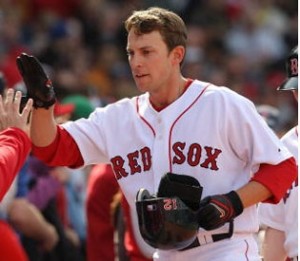 It's no secret the Red Sox have had, shall we say, "issues" at the shortstop position for a long time now. Cabrera and Gonzalez looked good to us, but not to Theo. He had man-crushes on Renteria and Lugo and we all know how that ended up. From what I've seen, I think Jed Lowrie is the shortstop of the present and future in Boston.
His 162-game averages portray him as a .250 hitter with 40 doubles, 13 homers and 78 RBI. But if you look at the numbers he put up this season, he could turn out to be a much better player. In 55 games, he hit .287 with 14 doubles, 9 homers and 24 RBI. His walks were up and his strikeouts were down. In his 23 games at shortstop he made only one error.
Marco Scutaro played in 150 games, hit .275 with 38 doubles, 11 homers and 56 RBI. In 132 games at short he had 18 errors.
I'd love to see Jed Lowrie start the season at shortstop and see what he can do for a full, healthy season. Maybe 2011 will be that year?