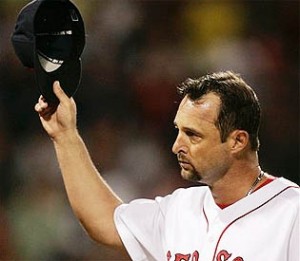 With all the stories of  performance enhancing drugs, off-the-field controversies and inflated statistics, it's nice to hear a story about someone using their God-given talent for something more positive than to get a bigger contract. Especially if the person being recognized is one of our own. Tim Wakefield was named the recipient of the 2010 Roberto Clemente Award for his dedication to the community, sportsmanship and contributions to his team:
Each year, Wakefield is at or near the top of the list in community appearances by Red Sox players. Before every Tuesday home game, he runs the Wakefield Warriors program, in which he invites children from the Franciscan Hospital and the Jimmy Fund to visit with him and watch batting practice. That program has been going on since 1998. Wakefield helped Franciscan Hospital raise $700,000 at a fund-raising gala and in 2009, the hospital thanked him by renaming their refurbished baseball field the Tim "Wake" Field. Each year, Wakefield participates in the Jimmy Fund Radio-Telethon, which last year raised $4.5 million.
Congratulations, Tim. The game needs more players like you.