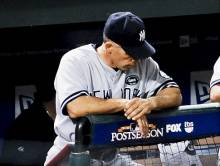 Red Sox Nation received the consolation prize it hoped for last night: the Yankees were eliminated from the playoffs and will not win the 2010 World Series. Joe Girardi looked helpless throughout the series in his use of the bullpen, and last night was no exception. Once again he went with Dave Robertson that helped seal the victory for Texas as Robertson gave up a two-run shot to Nelson Cruz. Phil Hughes was rocked for the second time in the ALCS and couldn't get out of the fifth inning. The offense could only muster three hits, and as a surprise to nobody, A-Rod batted a robust buck-ninety in the series.
Alex Rodriguez also had the audacity to reference the 2004 ALCS:
"I'd like to forget '04, but there's something to be said for it," said Alex Rodriguez, one of four players from that team still on the roster. "You have to win four games, and like the last three outs of a game, the last game is always the toughest."
Fittingly, A-Rod struck out to end game six and the Yankees season.