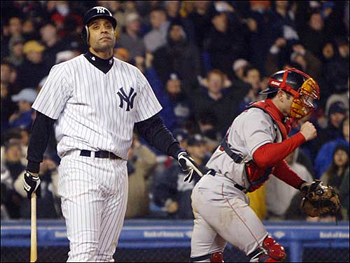 Watching ESPN's Four Days in October helped take away whatever pain I might have been feeling after the Sox got shut out of this year's playoffs. In fact, I'm not ashamed to say that the 2004 ALCS has been my security blanket for the past six years. Bad day at the office? Nothing "The Steal" can't cure. Life kicking me in the nuts? Time for Millar's "Don't let us win tonight" speech. Doctor tells me he wants more tests? Not until I'm done watching Damon take Vasquez deep for four magical runs.
I'd like to say that I spent game seven in a swanky hotel room, swinging from the chandelier, hopped out of my mind on Strohs while college girls in "Sox Addict" shirts held a pillow fight and the band I'd rented for the occasion tore through "We Are the Champions." Fact is, I was sitting on a couch with Denton (maintaining the mandatory five feet of personal space between us, of course), going out of my mind with every passing inning but still keeping my fingers crossed, even when it was apparent to everyone that we were finally the ones sending the Yankees packing, not the other way around.
Looking back, for me, the turning point came in game six. In the bottom of the ninth, the Sox held a slim two run lead and the Yanks had two men on with two outs when Tony Clark stepped to the plate. Right there, the storyline was set: Ex-Red Sox player comes back to bury the Sox in their ALCS bid. Like Fisk going deep on us one of countless times in his Chicago threads, or John Flaherty breaking up Pedro's no-hitter in Tampa Bay.
But Foulke struck him out — after working the count full, just to heighten the drama — and suddenly the series that once seemed lost was tied. And I realized the rules had suddenly changed. They were being rewritten.
I don't think I slept more than three hours straight during that ALCS. And, honestly, I couldn't sleep much after watching Four Days in October. It was nice to feel that sense of giddiness again. I missed it.