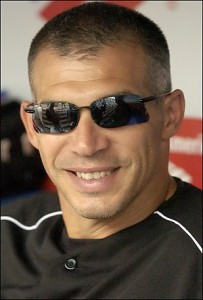 Managing ain't so easy when you actually have to manage, is it Joe? Most nights, all the Yankee skipper has to do is fill out the line-up card with the names of his overpaid all-stars, and let 'em have at it. In October, it's a little different, especially if the Yankee pitchers are struggling.
Other than Andy Pettitte, the Yankee starters have not earned their keep. Phil Hughes had a brilliant outing in game three against the Twins, but got shellacked by the Rangers. Sabathia has an ERA over seven in the post-season, and Burnett was…well, Burnett. Girardi has looked inept with the use of his pen in the ALCS. Oh, and it never looks good to intentionally walk a batter, only to have the next guy bash a three-run homer to break the game open.
If the Rangers can finish things off, I will be as satisfied with the post-season as I can be when the Sox aren't involved.