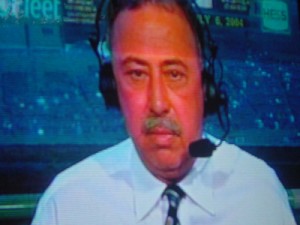 We know him as the RemDawg. Former Red Sox player, cancer survivor, our beloved color commentator on NESN. We enjoy all of his antics: from air guitar to breaking down the great "pizza throwing incident." But man, I wouldn't want to hang out with his kids.
Last week, Remy's son Jordan was arrested for assaulting a woman in South Boston.
The woman, who police are not identifying, told police she briefly talked with Remy inside the bar, but lost interest and wanted to get away from him, a police report states.

She said she and her aunt left the bar and began walking down Broadway when Remy ran into them, police said. She told police she spoke to him briefly so as not to appear rude, then walked away alone. Then, she alleges, Remy again approached her and grabbed her crotch. She pushed him away and yelled, according to the police report.

" 'What are you doing,' " she said, according to the report. "She stated he replied, 'You know you want it.' "
Ahh, the famous crotch-grab, topped off with the "you know you want it"…hard to believe that move didn't work.
This comes just a year after Remy's other son, Jared, was involved in a steroids scandal.
A massively muscular man, Remy is unapologetic about having used steroids and proud of his knowledge of weightlifting. He can be seen striking bodybuilding poses in photos posted on his girlfriend's Facebook page.

Remy has faced several assault charges, most recently in 2005, when he beat up a previous girlfriend. He acknowledges having made mistakes in his life, but said he would never take the legal risk of selling steroids.
Just a coupla fun-loving guys…