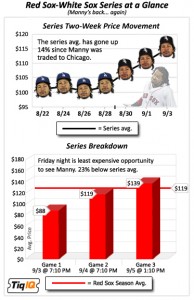 The house should be full when Manny rolls in tonight, based on the demand for tickets for the series. Always one to make a grand entrance (or exit), Manny will be bringing his personal barber, "Monster99" to the show.
"It seems like everywhere I go, people worry about my hair," Ramirez told ESPN.com. "I just want to go out there and play the game."

We wouldn't expect anything less, would we?
Meanwhile, the other Manny didn't fare so well in his Rockies debut.