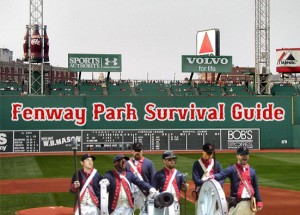 As always, whenever Red and I run into a question we can't answer, we turn to SG Nation to provide a little gray matter and help out. Sometimes the suggestions we get are a bit disturbing (the Michael J. Fox Bobblehead Night comes to mind) but in general, our readers are pretty creative and helpful.
So, in partnership with TiqIQ, we are putting together the Fenway Park Survival Guide. TiqIQ launched this with another partner-site in Philly (thefightins.com) and Red and I think, with your help, we could put together the definitiveFenway Guide.
In order to encourage creativity (and quite frankly, so we don't have to do any work) we are not restricting suggestions to mundane categories like "best hot dog vendor" or "cleanest bathroom." We want it all, folks: the good, the bad, and the ugly. If you have an idea on how to make someones trip to the park better…or at least more memorable, throw it down in the comments. Parking tips, sections with the hottest fans, nastiest ushers, post-game party sites…we really want it all.
Red and I will get together with a coupla 30-packs and assemble the official "Fenway Park Survival Guide." This should be good, eh?