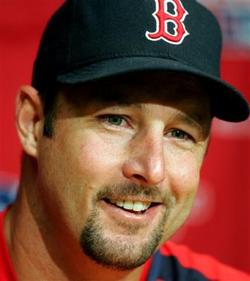 Tim Wakefield just doesn't get enough love from the baseball world. But getting nominated for the Roberto Clemente Award is pretty cool:
Every team in the Majors has one nominee, and all 30 have immersed themselves in the type of humanitarian and community efforts that distinguished the life of Clemente, a life that ended at age 38 on New Year's Eve 1972, with the crash of a plane aboard which he was personally delivering aid to Nicaraguan earthquake victims.

Fans will once again have the opportunity to participate in the selection of the national winner. They can cast votes for any of the 30 club nominees through Oct. 8.

The fan-ballot winner will be tallied as one vote among those cast by a special selection panel of baseball dignitaries and media members. The panel includes Commissioner Bud Selig and Vera Clemente, widow of the Hall of Fame right fielder.
Fan voting here, everybody. Get on it, let's make this happen.